ESR11. Kajangi Gnanachandran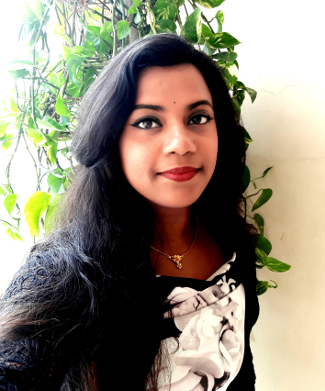 Short biographic note
"Not all those who wander are lost" is my way of thinking about both science and life.
Although I was born in Sri Lanka, I have lived in Italy for the past twenty years. Here, I have obtained my Bachelor's degree in Biotechnology and Master's degree in Medical Biotechnology at the University of Milano - Bicocca.
I am currently doing my PhD as a Marie-Curie Early Stage Researcher at the Department of Biophysical Microstructures at the Institute of Nuclear Physics - Polish Academy of Sciences (IFJ PAN) in Kraków. My research project will deal with the mechanical phenotyping of human bladder cancers.
I believe that curiosity is the essence of a scientific mind and even if sometimes it makes us wander in different and unwanted places and situations, I think that it does not necessarily mean that we are lost; we will always find and learn something new from wherever we are and whatever we are doing. Therefore, I have begun this new adventure within the Phys2BioMed project with curiosity and willing to learn as much as possible from the entire team.
E-mail: g.kajangi@gmail.com / kajangi@hotmail.it
Facebook: Kajangi Kanji
Project Title
Mechanical phenotyping of human bladder cancers
Start date
1st June 2019
Beneficiary
Objectives
To establish the link between the mechanical and migratory cellular properties and the risk of bladder cancer progression towards the diagnosis human bladder cancer.
Expected results
The proposed research aims to study human bladder cells and tissues obtained from patients based on collaboration with Collegium Medicum of the Jagiellonian University. Results obtained for established urothelial bladder cancer will help to develop an accurate d iagnostic method, which could enable early detection of pre-cancerous and cancerous changes through a cellular phenotype with a particular focus on its elastic properties. The ESR will be involved in scientific communication, training and dissemination.
Planned secondments
1. WWU, H. Schillers (3 months, month 8). Optimising cell/tissue sample preparation protocol. 2. CHUGR, A. Millet (2 months,month 13). Tissue slicing for live AFM measurements. 3. OSR, M. Alfano (3.5 months, month 18). ECM sample preparation, animal model involvement, immobilisation. 4. TMT-C2CR, M.-C. Copin (2 months, month 22). Advanced preparation procedure for biological samples.